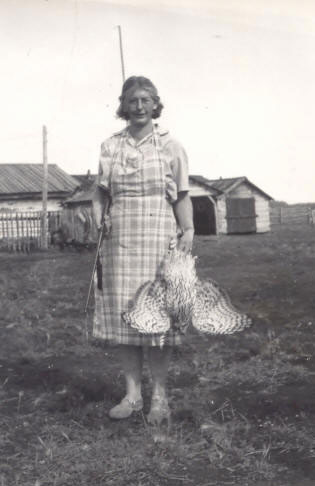 History of Dr. Mary Percy Jackson
Dr. Mary Percy was born in Dudley, England on December 27, 1904. She was the eldest of four children born to a wool merchant and a schoolteacher. Mary graduated with a Bachelor of Medicine and a Bachelor of Surgery from the University of Birmingham then passed the Member of Royal College of Surgery of England and the Licentiate of Royal College of Physicians of London exams in 1927.
After that Dr. Mary Percy did two years of hospital work in Birmingham as House Physician in the General Hospital, House Surgeon in the Maternity Hospital and Casualty in the Children's Hospital.
In 1929 she applied for a position that the Alberta Government was advertising in the British Medical Journal. They wanted English women doctors with postgraduate obstetrics experience to work in outlying areas without hospitals, where the ability to ride a saddle horse would be an advantage. Dr. Mary Percy was accepted to be the doctor for the Battle River district, where Manning is now.
After working with travelling medical clinic in the Jarvie area, to learn about the conditions under which she would practice, Dr. Percy traveled to Peace River by train and then on the D.A. Thomas boat and overland to the Battle River. Mary brought a large number of medical supplies with her. In Battle River she was provided with a small cabin that was her home and clinic. A few weeks after she arrived the settlers bought a saddle horse, which she rode to see many of her patients.
When Mary arrived, there were about 500 people in the Battle River area, but large numbers of immigrant settlers came from Europe, and by 1931 there were about 2000 people.
In that first year, as Dr. Jackson adjusted to the isolated conditions of northern Alberta, she saw many patients with different afflictions. Saw-wounds, normal and complicated pregnancies, tuberculosis, and shotgun wounds were all among her caseload. She also practiced her teeth-pulling techniques, which she had studied briefly before leaving England.
In January 1930, Frank Jackson from Keg River arrived as a patient by dog team. He had a septic hand. In those days before sulpha drugs, penicillin or other antibiotics, infections were much more serious then they are now. Frank's wife had died following the birth of their third son.
Frank found other reasons to visit and he and Mary were married in 1931. Mary moved to Keg River, which was even more isolated than Battle River had been, although the telegraph line had just been connected so that they could communicate with the "Outside."
Keg River was home to Dr. Mary Percy Jackson for over 60 years. She lived on her farm and enjoyed her plants and garden. She and Frank traveled some, before and after Mary retired from medical practice in 1974. Mary met people from around the world and kept in touch with them by writing many letters. Frank died on September 1, 1979, at the age of 87 Dr. Jackson moved to Manning and died peacefully at the age of 96 on May 6, 2000.

Dr. Jackson has been honored for her outstanding work in the community.
| | |
| --- | --- |
| 1967 | Centennial Medal of Canada "On the occasion of the hundredth anniversary of the Confederation of Canada, the Centennial Medal is conferred on Dr. Mary E. Percy Jackson, in recognition of valuable service to the nation." |
| 1967 | Alberta Centennial Award 1969 Senior Life Membership in the Alberta Medical Association. "Dr. Mary E. Percy Jackson has been elected to this honor by colleagues in the Association because of contributions and long service to the public and the Profession." |
| 1971 | Senior Membership in the Canadian Medical Association 1974 Life Membership in the College of Family Physicians 1975 Woman of the Year for the Voice of Native Women. |
| 1975 | Alberta Achievement Award (also given to her husband Frank Jackson) "In recognition of outstanding service in the community with best wishes and congratulations of the people and government of the Province of Alberta." |
| 1976 | Honorary Doctor of Laws degree from the University of Alberta. |
| 1983 | Membership in the Alberta Order of Excellence "In recognition of service of the greatest distinction and of singular excellence for and on behalf of the residents of Alberta." |
| 1985 | Honorary Life Membership in the Geriatric Medical Society of Alberta. |
| 1985 | Honorary Diploma from Fairview College |
| 1989 | Named Officer in the Order of Canada. |
Dr. Jackson wrote many letters to England, particularly in the early days. These were printed and circulated to family and friends. They were also published in a book called Suitable for the Wilds (1995). Her story, as told to Cornelia Lehn, has also been published in a book called Homemade Brass Plate (1988).